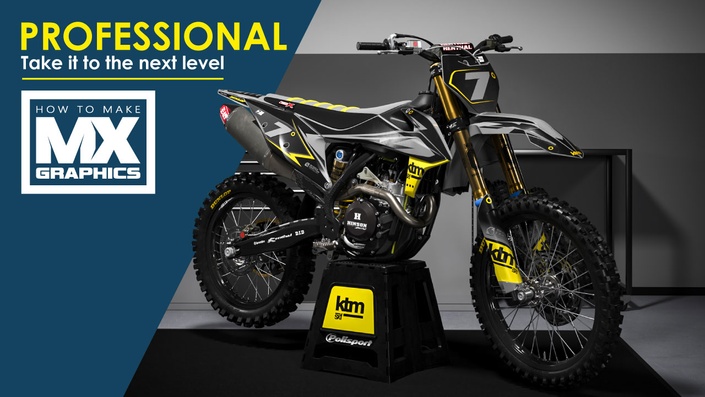 How To Make MX Graphics: Professional
The Professional version of our course with the most content.
The ultimate version for those who are serious about designing and creating graphics, beginners & established companies alike. This course will show and teach you everything we have learned over the years, and will provide you with valuable insights on designs, printing, machinery, outsourcing, communicating with customers and so much more
This course also allows you to save a lot of money on templates and pre-made designs, as we will give you a 50% discount on all of our templates for the next 2 years. We are very serious about our templates and we are providing the best ones in the business, with even the largest and best known MX graphics companies in the world using ours. We are creating new templates regularly and we aim to provide you with templates from the latest and newest models as quickly as possible, including streetbikes like the KTM 790, Yamaha R1 and many more.

''Get to know all about our methods, machinery, software and suppliers. Nothing will be held back!''

Most of our videos come with a PDF with all the instructions written down, including images and how to use the shortcuts.

Also, if you are just getting started or if you want to expand your portfolio; look no further. This course will include all of our pre-made and ready-to-go designs as a direct download. These designs have been made on our own templates (which are included!) and each come with 4 professional promotional images for you to use. You can sell them, change them and brand them as your own; everything is allowed. You know what else is cool? All the designs that we are going to create in 2019 will be added as well! You will recieve a 50% discount on all other pre-made designs from the start of 2020.

''Check out the Course Curriculum on the bottom of this page to see all the lectures, video's and content!''

The basics of Adobe Illustrator
Design a semi-custom Kawasaki graphic kit
Design a semi-custom Honda graphic kit
Design a motocross helmet graphic
Create cool numbers fast & easy
Communicate with customers
Apply graphics professionally
Apply heat transfers to jersey's and clothing
Set up your business correctly
Includes a tool to calculate income & expenses
Includes a tool to see when it's profitable to get your own equipment
Find out which machines to use and which to avoid
Match colors with mx plastics
Up-sell to earn more money from the same customer
Market your product effectively
Use Social Media for your business
The correct way to set up your website
50% off all of our templates for a 2-year period
50% off all of our pre-made designs for a 2-year period
Bonus content will be added regularly
The best vinyls & laminates
Using fluorescent and chrome colors
Includes of our pre-made designs + all the others that we will create in 2019
Access to our Facebook group where we will try to answer all your questions
Christmas Bonus Content!
20 FREE templates if purchased before 1-1-2020
Includes our RimWrap Instructions & templates so you can make and sell your own RimWraps
The Course now Features over 20 pre-made designs worth over €1500,- if purchased seperately on our website
Check out the full-products here: https://www.mks-graphics.co.uk/pre-made-designs-fo...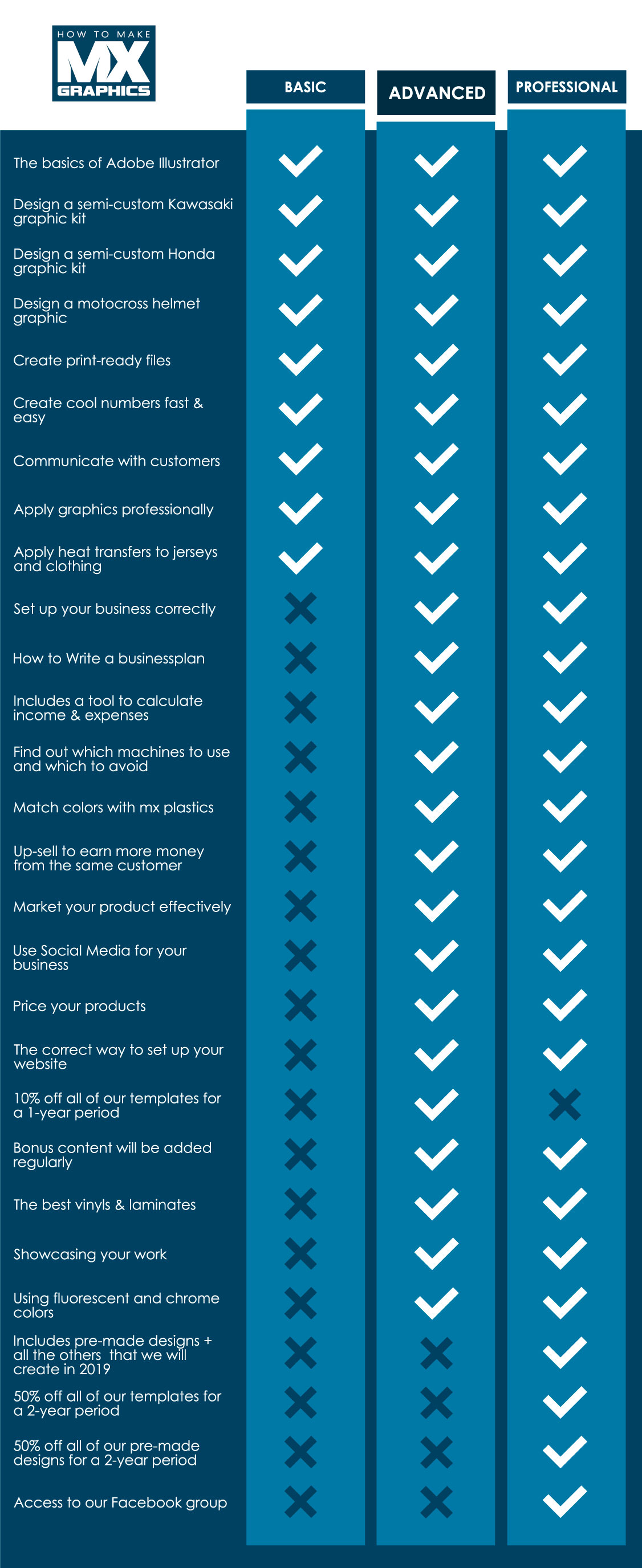 Your Instructor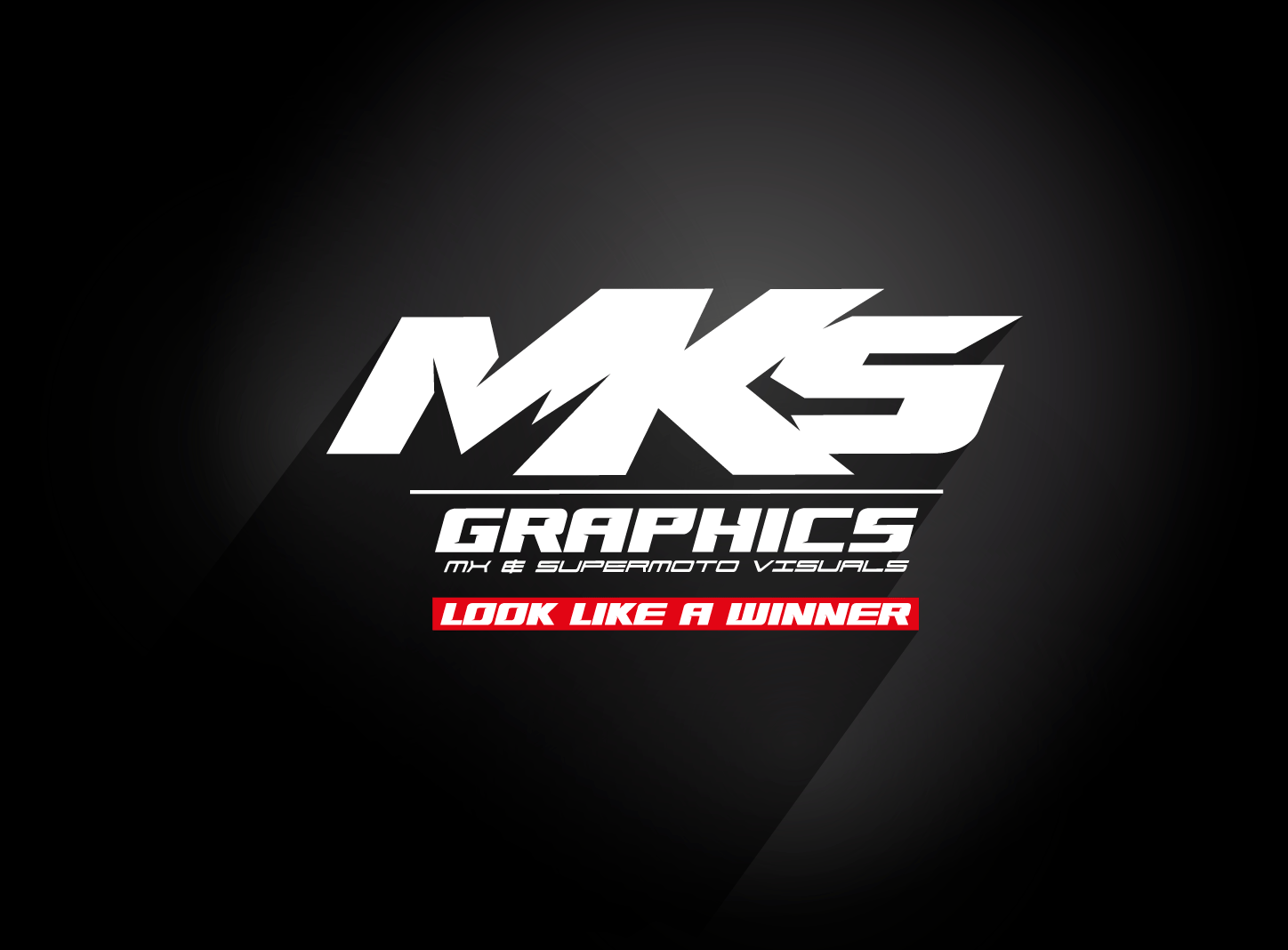 With many years of experience under our belt, it was about time to bring all this experience into the world. We have created and designed everything, from superbikes for world-class riders, to motocross bikes, carwraps and brochures; but what we excell at are motocross graphics. Since we are focussing more and more on business-2-business, we don't mind sharing our knowledge with others. It's extremely hard to find and to get information; but not anymore.
Let us, MKS-Graphics, show you what it takes to create the best looking designs and make sure that you can deliver a flawless product and awe every rider out there!

Course Curriculum
Learning the Basics of Adobe Illustrator
Available in days
days after you enroll
Design
Available in days
days after you enroll
Financials
Available in days
days after you enroll
Frequently Asked Questions
I am a complete beginner; is this course for me?
Yes! We made a selection of the best and most relevant Illustrator tutorials out there. We will also answer any questions you have about Illustrator. With our pre-made designs, you get a head start for your portfolio, adjusting these designs to your taste, is a lot easier than starting from scratch.
How long do I have access to the course?
How does lifetime access sound? After enrolling, you have unlimited access to this course for as long as you like - across any and all devices you own.
I already have a print & sign company; will I learn something from this course?
That is a definitive yes. While you might already know the basics, we know exactly what the customer wants, what to watch out for, how and what colors to use, which brands have the best materials and a couple of other juicy facts that will sure come in handy. In fact; everything that we as MKS-Graphics know is featured in this course.
May I use the designs you guys made in this course?
Yes! And you can use them for whatever you want. You may also sell them and use them for promotions and advertisements. You have our blessing.
How does the discount for the templates work?
Within 48 hours of enrolling in this course we will email you an unique discount code. This Code wil work on all of our digital products on www.mks-graphics.co.uk for two years. We will keep track of the 'owner' of this code, and we will always have the right to make the code invalid if we suspect abuse. If you have not yet received the code but you want to buy a template. Just buy it and email us for a refund of the discount.
Where can I find your templates?
You can find all of the templates and pre=made designs on www.mks-graphics.co.uk
I already make MX-Graphics, is this course relevant for me?
Yes it is, we spend years perfecting our workflow. We also could have saved so much money and time if we knew what we know now a few years ago. We are also working towards building an MX-Graphics company community, to support each other. We don't believe in working against competitors, working together makes a better market for everybody. This course has over €200 in downloadable content with more designs being added in the next few months. The 50% discount on templates is also a big money saver. You could earn back your investment with templates alone.